Sites to see in the Geopark : Geosites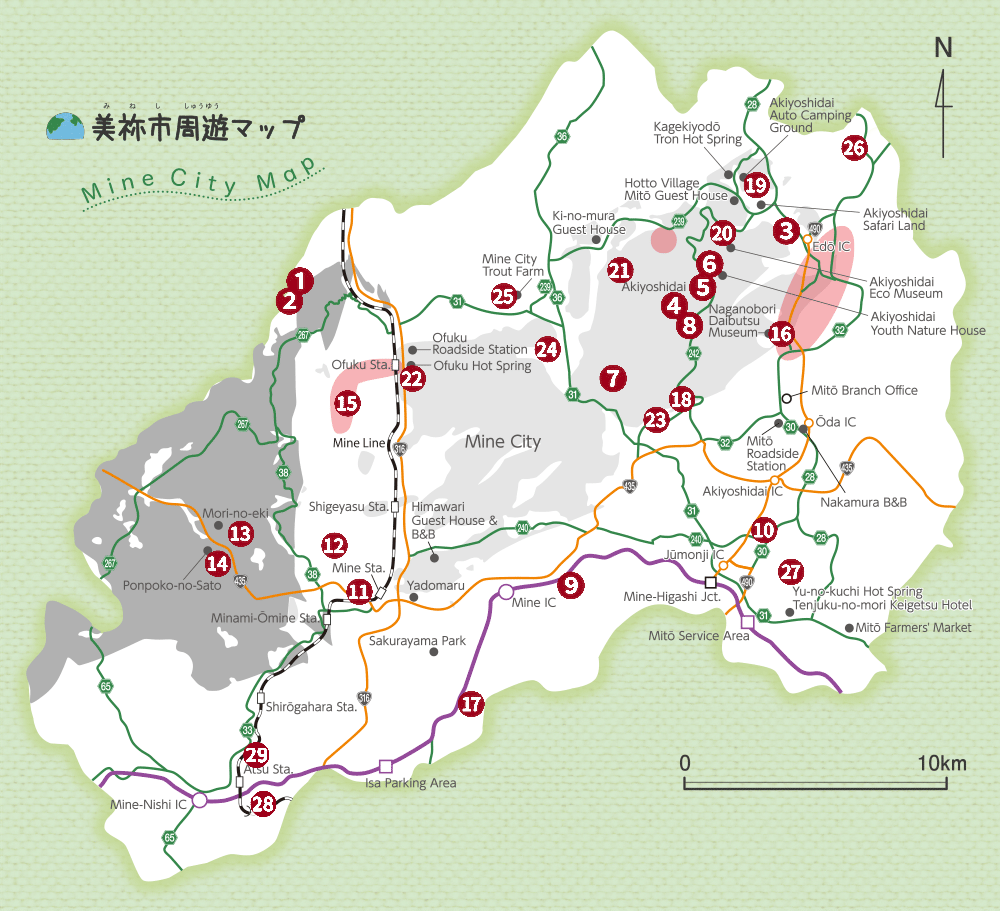 Geosites


1.Hirano Seihenmagan (orthogneiss)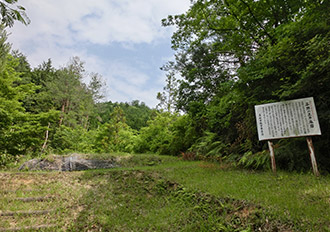 The Hirano Seihenmagan, or orthogneiss (metamorphosed igneous rock), formed in blocks surrounded by serpentinite, is a City-designated Natural Monument. Granite, of which the oceanic plate was composed, metamorphosed under high temperatures 430 million years ago to form the orthogneiss. This rock records the state of the centre of the earth as it was long ago, but the process by which it came to be on the surface of the earth is unknown; such are the many mysteries which remain at Hirano.
Geosites


2.Hirano Serpentinite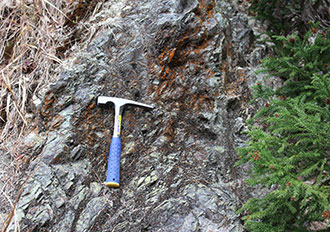 When peridotite buried deep underground reacts with water, it turns into a rock called serpentinite. This rock is made lighter by this reaction, such that it rises up to the surface of the Earth. The Hirano serpentinite mixed with the orthogneiss as it was rising up. The smooth, striped surface of the rock gives rise to the name serpentinite. Serpentinite is used, among other usages, to form concrete aggregate, and was in the past extracted in search of asbestos.
Geosites


3.Basaltic rock outcrop at Miyanobaba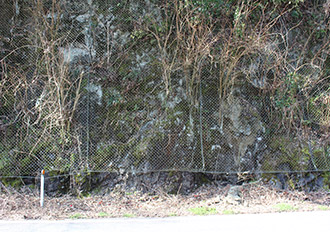 Along the road at outcrops (rock formations visible on the surface) in Miyanobaba, Mitō-chō, can be seen basaltic rocks dating back approximately 350 to 320 million years. Chemical analysis has shown that these rocks were formed by the eruption of a submarine volcano, forming an elevation in the seabed (a seamount). At the top of and around the seamount grew coral reefs, which would subsequently form limestone.
Geosites


4.Mt Kanmuri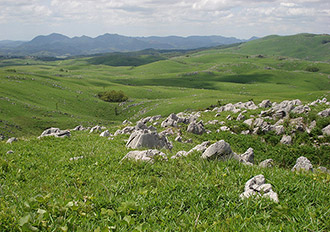 The 377-metre-high Mt Kanmuri shows the reverse stratigraphy phenomenon of the Akiyoshidai karst plateau. Many fossils of calcareous algae, sponges, etc. found on the surface of the limestone near the top of the mountain suggest that this stratum was once an animal reef. The top of the mountain also provides a panoramic view of the Akiyoshidai karst, including many limestone pillars to the north and many dolines (cone-shaped sinkholes) to the south.
Geosites


5.Mt Kitayama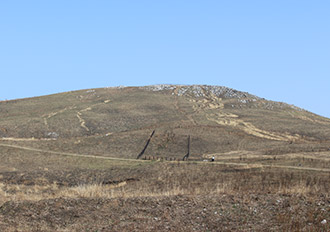 The 367-metre-high Mt Kitayama is formed from limestone dating back approximately 320 to 280 million years. On its north-western slope are the remains of an ironstone mine. On its southern slope are the remains of trenches built when Akiyoshidai was used as drill ground.
Geosites


6.Kaerimizu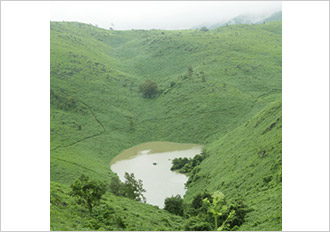 At Kaerimizu, limestone dating back approximately 300 to 260 million years runs along a row of dolines. At outcrops (rock formations visible on the surface) here can be seen the fossils of different types of fusulina, and the sedimentary structure of the limestone. This area was also the site of the discovery of the reverse stratigraphy phenomenon by Yoshiaki Ozawa, a geologist at Tokyo Imperial University (the present-day University of Tokyo). At the bottom of Kaerimizu is a spring that never runs dry throughout the year.
Geosites


7.Mt Ryugō-hō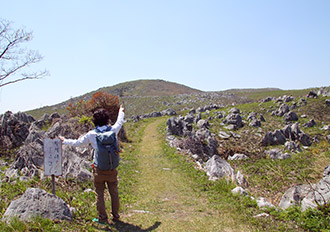 Mt Ryugō-hō, at 425m high, is the highest mountain on Akiyoshidai. Along a fault in the mountain, you can see lines of minerals such as calcite and quartz, which were formed by magmatic activity about 100 million years ago. On the eastern slope of the mountain are crystalline limestone formations (marble), which include gravel containing fossils of branchiopods and fusulina.
Geosites


8.Chōjanishiki Quarry Ruins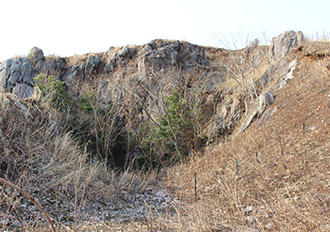 The Chōjanishiki quarry ruins are the remains of a former limestone quarry. There are sites all over the Akiyoshidai plateau where limestone formations created by magmatic activity about 100 million years ago can be seen, of which this area is one. The limestone's crystalline structure was altered due to this magmatic activity, becoming crystalline limestone (marble).
Geosites


9.Kamisobara Chert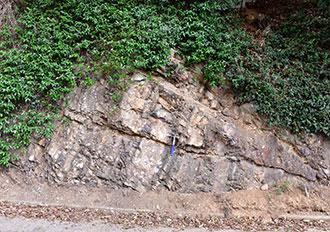 Chert comes in many different colours; that of Kamisobara in Mine is black. Chert is a rock formed from the siliceous shells and skeletons of plankton, which slowly accumulate on the sea floor. The chert here shows that these plankton remains accumulated in the deep, wide ocean around the coral reef which would form the basis of the Akiyoshi limestone.
Geosites


10.Ayagi Sandstone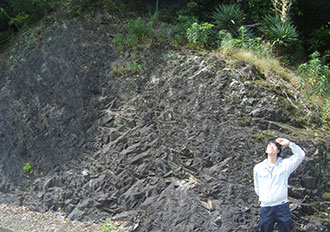 Sand and mud which flow down from the continent into the sea along the coast form rock layers. When dense sand and mud flow down slopes at the bottom of the sea (submarine sliding) and accumulate, they form deposits which retain these flow patterns. These deposits are known as turbidite.
Geosites


11.Limestone block-containing Mudstone at Higashi Shibukura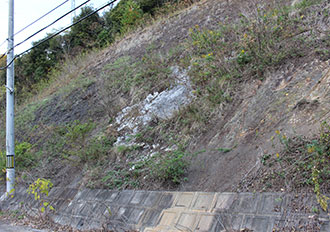 Here can be observed a large limestone block several metres in diameter contained within a layer of mudstone. This limestone was formed from a coral reef in the distant, southern ocean. This block here was formed as part of a much larger section of limestone which was carried by tectonic plate movements. When this large section of limestone collided with the continent it broke up, and the block here became embedded in mudstone. The large section of earth where limestone can be found broken up, changed and mixed with other rocks is known as mélange.
Geosites


12.Tsunemori Gravelly Mudstone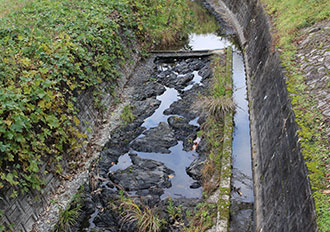 This rock is an amalgam of many different sediments, including rocks of various sizes and types. To use a slightly scientific phrase, it is mélange formed by submarine sliding. This mélange was formed after the limestone of Akiyoshidai had been brought by plate movements to the continent.
Geosites


13.Ruins of Momonoki Strip Mine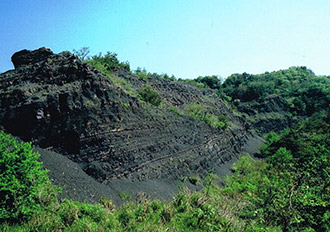 The Momonoki strip mine is a surface mine from which coal was extracted between 1966 and 1970.
※There is no public access to this geosite
Geosites


14.Fossilleous Siltstone of Okubata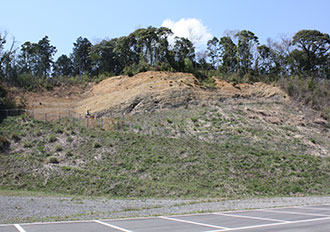 This rock layer was formed between 230 and 220 million years ago, and contains many fossils of insects and plants from the period, including the triassoblatta okafujii, the oldest cockroach fossil found in Japan. It is believed that, in the period immediately before the deposition of this layer, there was a mass extinction of living things on Earth; this layer is therefore a record of the creatures and plants which flourished after this extinction event.
Geosites


15.Ofuku Granite
Where magma intrudes into an area of limestone, it heats up the surrounding limestone and causes it to change into marble. As this magma slowly cools and hardens, it becomes a rock called granite. Similarly, when this same magma comes into contact with coal it causes carbonisation, creating anthracite, a type of coal which emits little smoke. The granite of Ofuku is the remains of magma which was responsible for both of these phenomena.
Geosites


16.Naganobori Skarn Deposit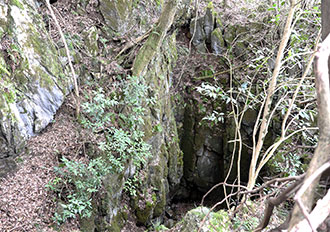 A skarn deposit formed by the reaction of the Carboniferous-Permian-period limestone of Akiyoshidai with Cretaceous-period magma. Naganobori is the only mine whose minerals have been proved by chemical analysis to have been used in the creation of the Nara Daibutsu (Great Buddha).
Geosites


17.Magura-no-Ōiwagō (The Great Stones of Magura)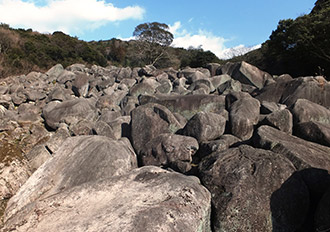 Magura-no-Ōiwagō is an area completely covered with huge rocks, up to 7m in length. These rocks were formed approximately 100 million years ago from magma flowing out onto the ground and slowly cooling. It may look as though the rocks flowed down the slope, but in reality this unique geological feature was formed by weathering and erosion occurring along joints in the rock.
Geosites


18.Akiyoshidō Cave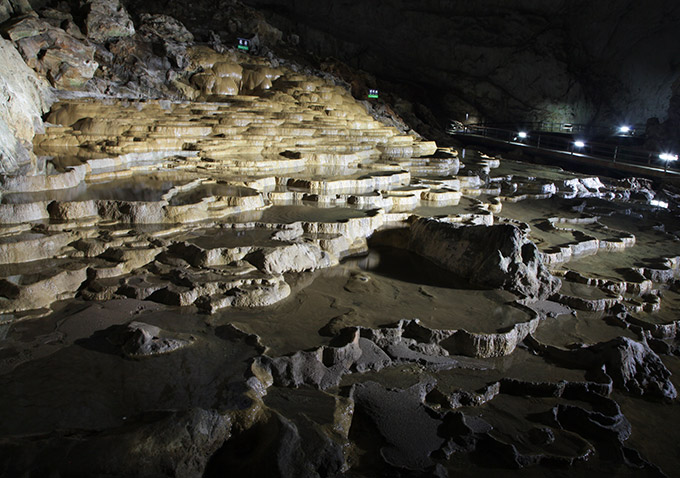 The Akiyoshidō Cave, with its near-11km length, is among the largest limestone caves in Japan, as well as the country's second longest. Located downstream along a groundwater system the cave features a large amount of underground river water and many cave formations such as stalactites and stalagmites. The cave is inhabited by species peculiar to caves, including a small shrimp-like species named Shikoku yokoebi (Pseudocrangonyx shikokunis Akatsuka & Komai), as well as bats which appear from May to August. In total, 453 underground limestone caves have so far been discovered beneath the Akiyoshidai karst plateau; in addition to Akiyoshidō Cave, caves open to the public are the horizontally-extending Kagekiyo Cave (Kagekiyo'ana), and Taishō Cave with its network-like structure.
Opening hours: Mar-Nov: 8.30-18.30; Dec-Feb: 8.30-17.30 (last entry one hour before close; open year-round)
Entry fees: Senior high school students or older: 1,300 yen; junior high school students: 1050 yen; elementary school students: 700 yen; pre-schoolers or younger: free
Enquiries: Akiyoshidai Tourist Information Centre Tel.: +81 (0)837-62-0305
Geosites


19. Kagekiyo'ana (Kagekiyo Cave)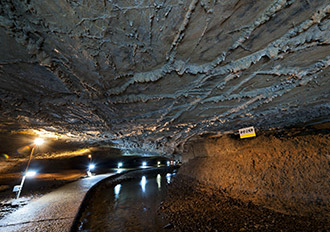 Kagekiyo Cave is a tunnel-like cave approximately 1.5km long, with openings at both ends and a river flowing inside. Today, however, visitors cannot pass through the cave. Patterns formed by the dissolution of limestone by water can be observed on the cave walls, as well as fossils of coral, sea lilies and other ancient species. About 400m along the tourist course is an exploration course, where you can walk inside the cave with only a torch for illumination.
Entry hours: 8.30-17.15 (last entry 16.30; open year-round)
Entry fees: Junior high school students or older: 1,000 yen; elementary school students: 560 yen; pre-schoolers or younger: free
Exploration course admission fee: 300 yen (including rental fee for a helmet and boots)
Enquiries: Kagekiyo Cave Information Centre Tel.: +81 (0)8396-2-2201
Geosites


20.Taishōdō Cave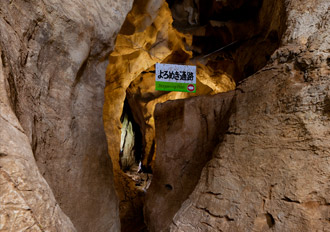 Taishōdō Cave, with an elevation change of over 100m, features a three-dimensional structure of roughly three tiers. In this cave, you can observe various traces of the stages in the development process of the cave. Since a 2014 survey revealed that Taishōdō Cave is connected to a hole known as 'Inugamori'ana' underground, Taishōdō Cave has been recognised as the third-longest cave in Akiyoshidai at approximately 2,000m in length.
Entry hours: 8.30-17.15 (last entry 16.30; open year-round)
Entry fees: Junior high school students or older: 1,000 yen; elementary school students: 560 yen; pre-schoolers or younger: free
Enquiries: Taishōdō Cave Information Centre Tel.: +81 (0)8396-2-0605
Geosites


21.Nakaodō Cave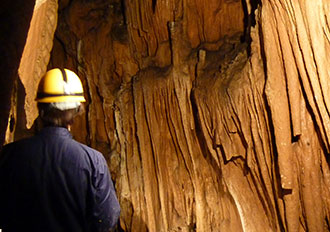 A cave composed of three sections: the mouth which proceeds to a vertical hole; the lower, central section of the cave; and the deepest, rearward part of the cave. In 1921, some local schoolchildren and their teacher discovered extremely beautiful cave formations in the rear part of the cave. Two years after this discovery, the cave was recognised as a National Natural Monument. In order to protect the cave, it is not currently open to the public.
Geosites


22.Ofukudō Cave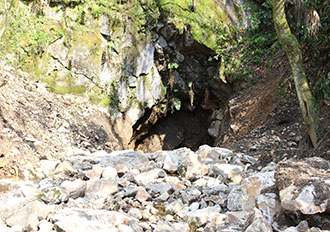 Ofukudō is a cave formed by the dissolution of limestone, through which water runs even today. This formation is known as a sinkhole, and the area here is known as 'Nyūsui', or 'water entrance'. The water which flows into the cave emerges at Shiramizu Pond, eventually flowing into the Atō River.
Geosites


23.Suijin Pond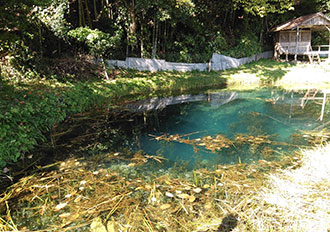 A pond located on the edge of the limestone of Akiyoshidai. The water which springs up here arises in the limestone area. Very little water flows on the surface in limestone areas, making the water here an extremely valuable resource for farming. The people of the area worship the water god at this pond.
Geosites


24.Shiramizu Pond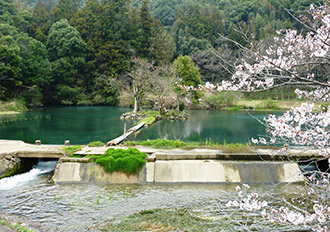 The Shiramizu Pond is located at the north-eastern foot of Western Akiyoshidai. The name 'Shiramizu' (lit. 'white water') is derived from the slight opaqueness of the water which springs up in the pond. The abundant spring water, which never runs dry throughout the year, dissolves limestone as it comes up, giving the pond water a high concentration of calcium and bicarbonate ions. The water has long been used for farming.
Geosites


25.Beppu Benten Pond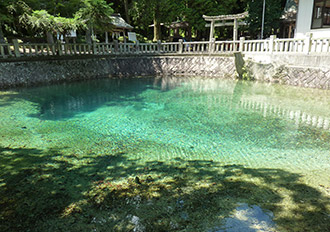 The Beppu Benten Pond, with a perimeter of about 40m and a depth of about 4m at its centre, is located in the precincts of Itsukushima-jinja Shrine in Mine City. It is thought that the water of this pond is groundwater that flows from Mt Hanao to the northwest of the pond and springs along a fault. The water has long been used in local people's daily lives and for farming, and is today used to cultivate trout.
Geosites


26.Mitō Force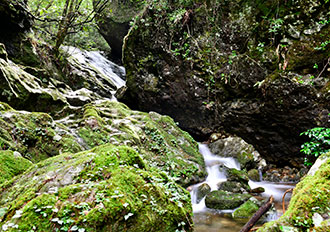 The Mitō force is a waterfall of 11m in height, made up of 5 continuous steps; because it does not flow directly direction but flows over several steps, it ought more properly to be called a cascade. A type of rock volcanic rock called dacite can be seen here. The steps in the cascade may or may not be produced by faults in the dacite.
Geosites


27.Structural Fault Outcrop at Saigatao, Mana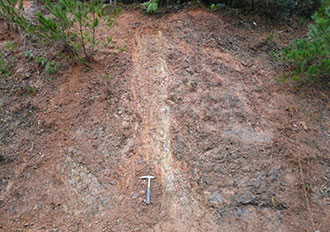 Here, a fault which runs in a north-east to south-west direction for about 20km between Ayagi in Mitō-chō and Higashi-Yoshibe in neighbouring Ube City can be seen on the surface. A layer of rock representing around 100,000 years of deposition has become visible through movements at this fault. The fact that this rock is visible indicates that the fault here is active, and has the potential to move again in the future, causing an earthquake.