Sites to see in the Geopark : Hub facilities
Hub facilities


1.Akiyoshidai Museum of Natural History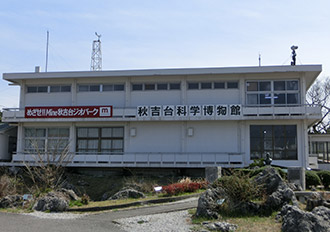 This museum enables you to learn everything about Akiyoshidai Karst Plateau, including its geological and geomorphological features, animals and plants, and archaeological findings. The museum exhibits many fossils found in Akiyoshidai, from those of small animals such as coral, fusulina and ammonites to those of large animals such as a deer species named Yabe-otsunojika (Sinomegaceros yabei) and a rhinoceros species named Nippon-sai (Dicerorhinus nipponicus), as well as extant animals which live in limestone caves, such as bats.
Hours: 9.00-17.00
Closed: Mondays and New Year holidays (28th Dec. to 4th Jan.)
Admission: Free
Address: 1237-938 Akiyoshi, Shuhō-chō, Mine City, Yamaguchi Prefecture 754-0511
Tel.: +81 (0)837 62-0604
Hub facilities


2.Akiyoshidai Eco Museum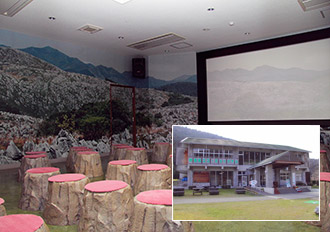 This museum introduces the geomorphological features, history and nature of Akiyoshidai karst plateau from various perspectives, using videos and models. With many hands-on experience sections, the museum enables you to enjoy learning about the natural environment and ecosystems in Akiyoshidai. The museum also features a faithful reproduction of the interior space of a cave.
Location: 2368-1 Aka, Mitō-chō, Mine City, Yamaguchi Prefecture
Hours: 9.00-16.30
Cooperative donation (admission): Adults: 200 yen (free for senior high school students or younger)
Closed: Tuesdays (If a national holiday falls on a Tuesday, the museum will be closed on the following day.); New Year holidays (28th Dec. to 4th Jan.)
Bus parking capacity: 5
Car parking capacity: 135 (for free)
Access: (1) 60 min. by bus from JR Shin-Yamaguchi Sta. or (2) 5 min. by car from Edo IC on the Ogōri-Hagi Road
Enquiries: Akiyoshidai Eco Museum Tel.: +81 (0)8396-2-2622
Hub facilities


3.Naganobori Copper Mine Cultural Exchange Centre (Daibutsu Museum)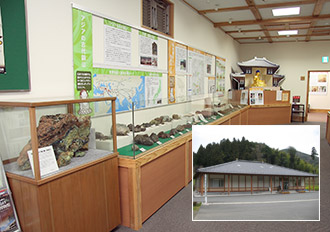 This facility enables you to learn about copper and the process of copper deposit formation. The museum also exhibits excavated artefacts, including mokkan (strips of wood used for writing on), objects relating to copper refining, mineral pigments (verdigris) made from copper ore, and tools for making these pigments.
Hours: 9.00-17.00
Closed: Mondays and New Year holidays (27th Dec. to 4th Jan.)
Admission: Senior high school students or older: 300 yen; elementary and junior high school students: 150 yen; pre-schoolers or younger: free
Address: 610 Naganobori, Mitō-chō, Mine City, Yamaguchi Prefecture 754-0213
Tel.: +81 (0)8396-2-0055