Geosites in Mine: Western Akiyoshidai Karst Plateau area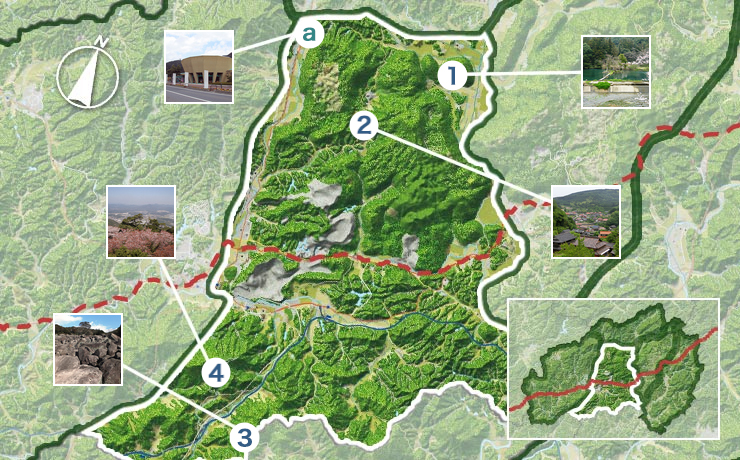 Click photos on the map to read explanations.
Geosite


1.Shiramizu Pond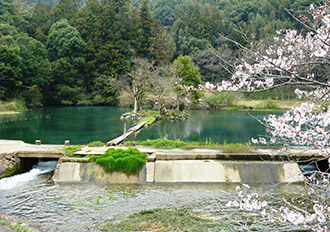 The Shiramizu Pond is located at the northeastern foot of Western Akiyoshidai Karst Plateau. The name "Shiramizu" (lit. "white water") derives from the slightly opaque water springing up in the pond. Since the abundant spring water, which never runs dry throughout the year, dissolves limestone as it comes up, the pond water has a high content of calcium and bicarbonate ions. The water has long been used for farming.
Geosite


2.Yowara Uvala and hamlet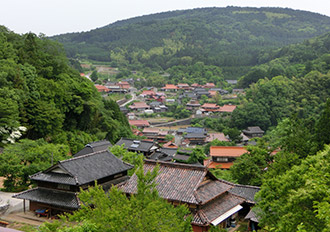 Located in Western Akiyoshidai Karst Plateau, the hamlet in the Yowara area, Shuho-cho, has developed in an uvala (a valley-like area formed with multiple dolines combining together). Isolated from other hamlets, houses in the Yowara hamlet are concentrated in the cone-shaped valley. Because of the hamlet's location in the karst, there are no rivers on the ground, and rainwater flows underground through multiple vertical holes called "ponors" in the uvala. Therefore, farmers in this hamlet mainly cultivate vegetables, and grow little paddy rice.
Geosite


3.Magura no Oiwago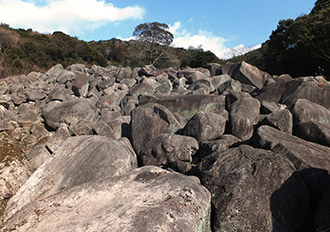 Magura no Oiwago is an area completely covered with huge rocks, up to 7 m long. These rocks were formed approximately 100 million years ago from magma flowing out to the ground that then slowly cooled. It may look as though the rocks flowed down the slope, but in reality this unique geological feature was formed by weathering and erosion occurring along the rock joints.
Geosite


4.Sakurayama Multi-purpose Park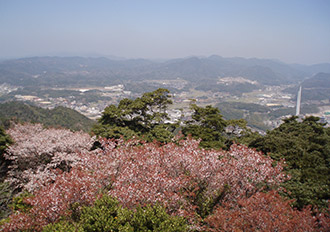 Located near the top of Mt. Sakurayama, 456 m high, this park offers a panoramic view of the entire surrounding area. Here you can observe the distribution of limestone and geomorphological differences between strata.

a.Ofuku Roadside Station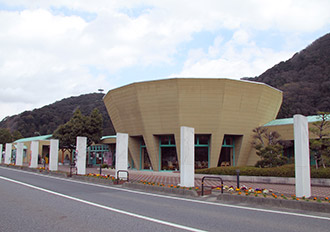 Located along Route 316, this roadside station enables you to relax while enjoying flowers and a hot spring. The facility houses the Ofuku hot spring and a restaurant, as well as a sherbet factory, where about 20 kinds of sherbet are produced and sold annually, mainly using seasonal fruits and vegetables.
Location: 4383-1 Ofuku-cho Kami, Mine City, Yamaguchi Prefecture
Parking capacity: 80 cars and 3 large-sized vehicles
Closed: 2nd Wednesday of every month (excluding those days in Jan. and Aug. If a national holiday falls on a regular day off, the facility will be closed on the following day.)
Inquiries: Ofuku Roadside Station Tel.: +81 (0)837-56-5005; Fax: +81 (0)837-56-5006
Website: http://r.goope.jp/michinoeki-ofuku (in Japanese)